Type your research (product, recipe, blog...)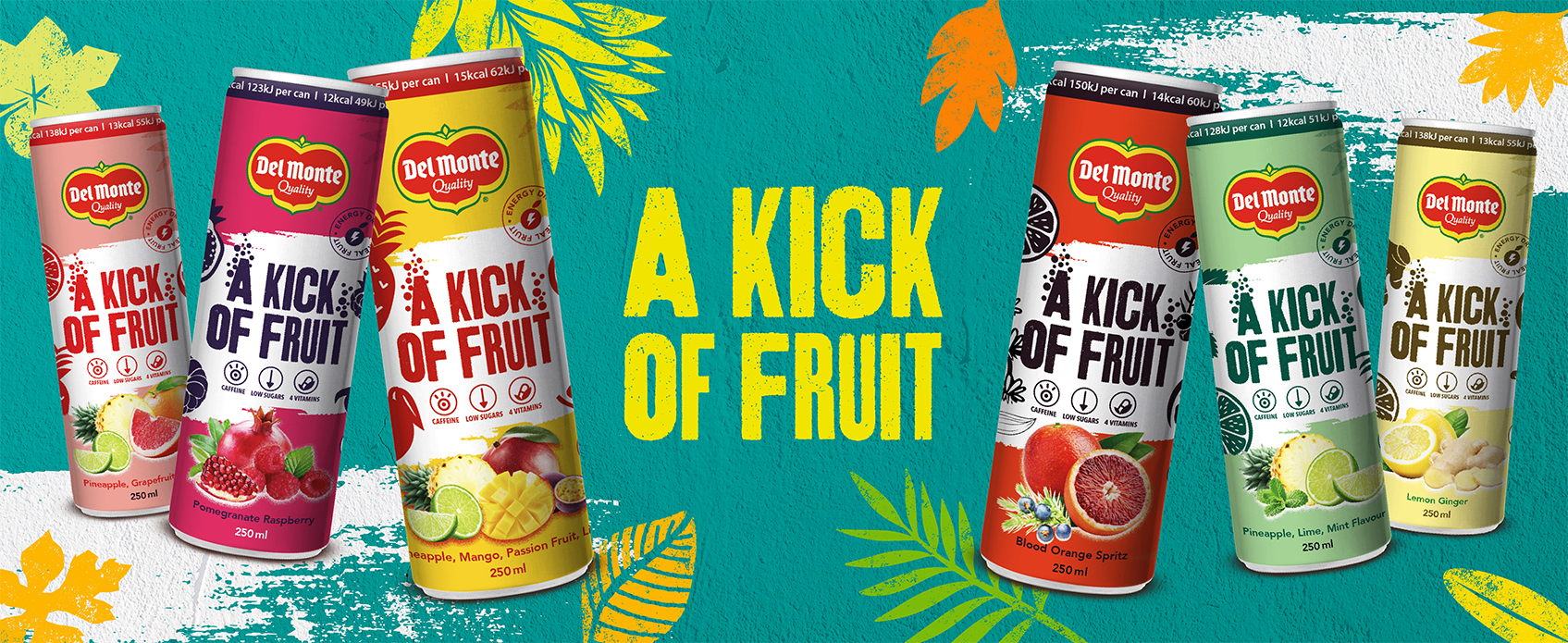 04/12/2022
Fresh Del Monte® bursts into energy drink market with real fruit content range
Fresh Del Monte® UK, a leader in fresh and preserved fruit, has announced the introduction of an exclusive range of energy drinks in collaboration with Scotland-based beverage manufacturer OTG (the Old Tom Gin's Company based in Saint Andrews). This new range will be available in selected clubs, hotels and bars across the UK from Wednesday 7th December.
Featuring at least 20% of real fruit juice and with no added sugar, Del Monte®'s 'A Kick of Fruit' energy drinks are available in innovative and tasty flavours including Pineapple, Mango, Passion Fruit and Lime; Blood Orange Spritz; Pineapple, Lime and Mint Flavour; Pineapple, Grapefruit and Lime; Lemon Ginger and Pomegranate Raspberry.
With added caffeine and four B group vitamins, which can help form red blood cells and convert fat into protein and energy, Del Monte® real fruit energy drinks will retail at £1.99, ranging from 12-15 kcals per can.
Martin Tilney, Senior Commercial Director for Fresh Del Monte® UK and Europe, said: "Our innovative Del Monte® A Kick Of Fruit energy drinks are a welcome addition to our expanding product range, providing consumers with an instant, natural energy boost from the 20% of real fruit that can be found in each and every can.
"Del Monte's® century-long commitment to fresh fruit with no compromise on quality gives our trusted brand the edge. We're thrilled to have collaborated with OTG and anticipate our energy drinks will appeal to mindful, health-conscious consumers looking for new ways to boost their energy levels and increase their nutritional intake all in one delicious and convenient product."
OTG Founder Giorgio Cozzolino, said: "Following many years of hard work in perfecting the taste, the quality and even the packaging, it was incredible to see the vision come to life; our focus will now be on driving brand availability and securing commercial partnerships."
ENDS

For further information, comment or high resolution images, please contact:
Eiléanór Dixon (eileanor@pier-marketing.com) at Pier Marketing on 01394 646 400, or reach the team on delmonte@pier-marketing.com.
NOTES TO EDITORS
About Del Monte®

Fresh Del Monte Produce Inc. is one of the world's leading vertically integrated producers, marketers, and distributors of high-quality fresh and fresh-cut fruit and vegetables, as well as a leading producer and distributor of prepared food in Europe, Africa, and the Middle East. Fresh Del Monte markets its products worldwide under the DEL MONTE® brand (under license from Del Monte Foods, Inc.), a symbol of product innovation, quality, freshness, and reliability for over 135 years. The company also markets its products under the MANNTM brand and other related trademarks. Fresh Del Monte Produce Inc. is not affiliated with certain other Del Monte companies around the world, including Del Monte Foods, Inc., the U.S. subsidiary of Del Monte Pacific Limited, Del Monte Canada, or Del Monte Asia Pte. Ltd. Fresh Del Monte is the first global marketer of fruits and vegetables to commit to the "Science Based Targets" initiative. In 2022, Fresh Del Monte Produce was ranked as one of "America's Most Trusted Companies" by Newsweek based on an independent survey rating companies on three different touchpoints, including customer trust, investor trust, and employee trust. Fresh Del Monte Produce is traded on the NYSE under the symbol FDP.
Del Monte®, the number one brand in the UK's canned fruit market with 35.5%* share of the market and has been a symbol of product quality, innovation, freshness and reliability for over 125 years.
For further information visit https://www.delmonteeurope.com/ or follow us on Facebook @delmonteuk or Instagram @delmontegb
*Source: AC Nielsen Scantrack Data Total Market 52w/e 10.09.22
About OTG (Old Tom Gin Company in St Andrews Ltd).
OTG is a contemporary lifestyle drinks business that has a distinct balance between tradition and innovation, using its experience and modern vision to challenge existing thinking.
Their business strategy is underpinned by partnerships and people, as well as their experience in drinks, hospitality and business to develop collaborations from founder Giorgio Cozzolino, which brings the best of his homeland in Italy with his roots in Scotland.