Type your research (product, recipe, blog...)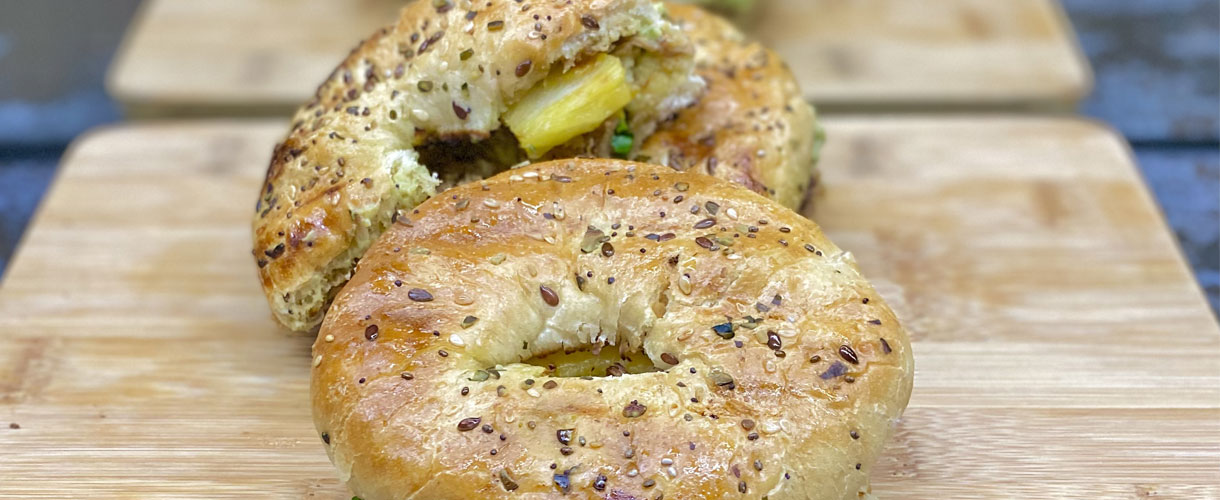 Ingredients:
• 4 bagels
• 4 slices of Del Monte pineapple
• Sprig of coriander, finely chopped
• 400g of pulled pork (pro tip: I buy it already prepared in BBQ sauce)
• 4 slices of Gouda cheese
• 1/2 onion, finely chopped
• ➡️ For the guacamole:
• 2 lemons, squeezed
• 2 avocados
• Salt and pepper to taste
• 50ml of olive oil
• 50g of sour cream
• 1 sprig of coriander, chopped
• 2 cloves of garlic, crushed
• 1 slice of onion

Preparation:
1)Cut off both ends of the pineapple and then remove the skin from the whole pineapple, trying to remove all the "little eyes". 2)Using a sharp knife, cut the pineapple into thin slices. For each slice, remove the core (centre of the pineapple). Set aside 4 slices of pineapple prepared in this way. 3)Cut the onion into thin slices and set aside. 4)Prepare the guacamole: add the diced avocados, lemon juice, olive oil, sour cream, chopped coriander, garlic cloves, onion, salt and pepper to the blender (chopping the avocados, coarsely chopping the coriander and crushing the garlic makes the blending easier). 5)Blend until you get a consistent mixture. Set aside in the refrigerator. 6)Cook the 4 pineapple slices on the BBQ for 10 minutes. At the same time, heat the meat on the BBQ and add the onion and coriander. 7)Toast the bagels on the BBQ for a few minutes. 8)Presentation: cover both sides of the bagels with the guacamole and add the onion slices, a little fresh coriander, the pork and finally the cheese.
Our Selection