Type your research (product, recipe, blog...)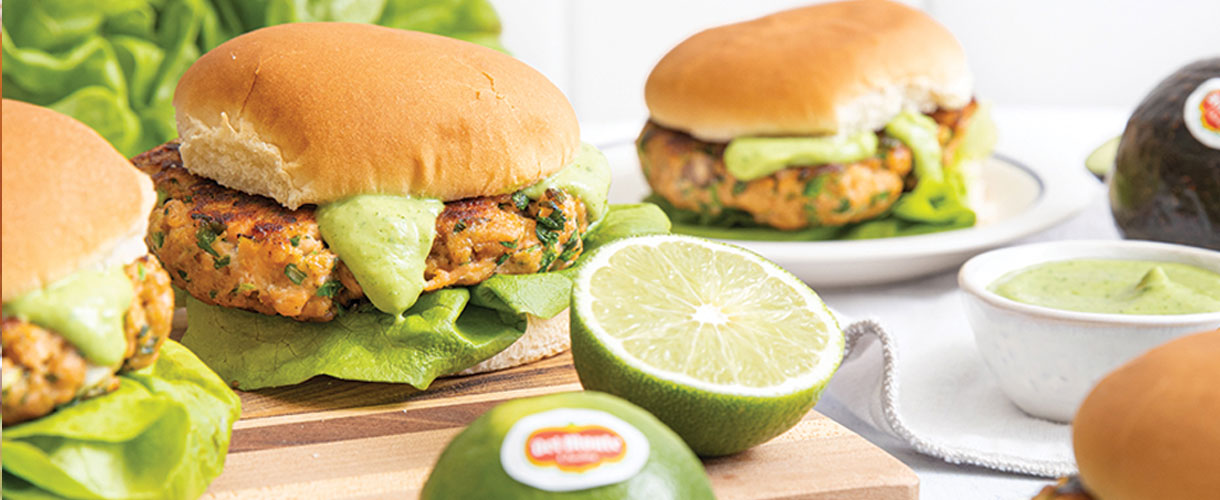 Spicy salmon burgers with avocado ranch
Ingredients:
• ➡️ For the avocado ranch
• 1 Del Monte® Avocado, pitted and scooped from the shell
• ½ cup cilantro leaves and stems, chopped
• ½ cup buttermilk
• 2 tbsp. lime juice from Del Monte® Limes
• 1 garlic clove, chopped
• ½ tsp. fine sea salt
• ➡️ For the salmon burgers
• 1½ lbs. salmon, bones and skin removed, divided
• ½ cup dry breadcrumbs
• 1 tsp. ground cumin
• 1 tsp. dried oregano
• 1 tsp. fine sea salt
• ¼ tsp. cayenne pepper
• 2 jalapeños, seeded and chopped
• ½ cup cilantro, chopped
• 4 green onions, chopped
• 2 tbsp. olive oil
• 4 hamburger buns, lightly toasted
• 8 butter lettuce leaves

Preparation:
1)In a blender combine avocado, cilantro, buttermilk, lime juice, garlic, and salt. Blend until completely smooth. If needed, add a little more buttermilk to obtain a thick but pourable consistency. Set aside. 2)In a food processor combine about ¼ of the salmon, breadcrumbs, cumin, oregano, salt, and cayenne. Process until mixture forms a smooth paste. Add remaining salmon, jalapeños, cilantro, and green onion. Pulse until salmon and vegetables are finely chopped but not a paste. 3)Form salmon mixture into 4 patties. 4)In a large nonstick skillet heat oil over medium heat. Add burgers and cook, flipping once, until browned and cooked through, 8-10 minutes (internal temperature should reach 145℉). 5)Serve burgers on buns, topped with avocado ranch and lettuce.